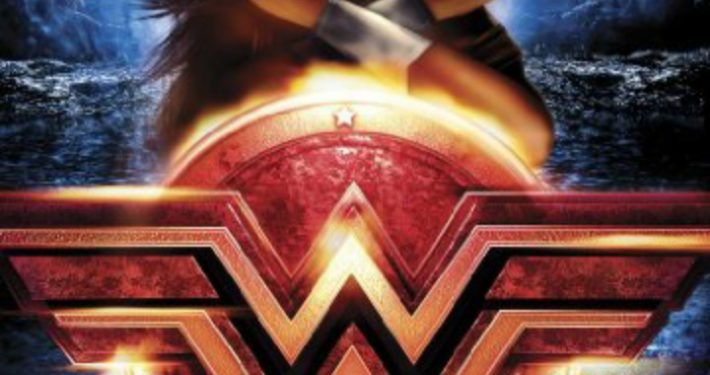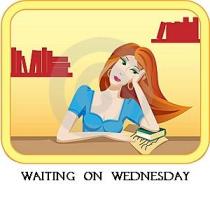 "Waiting On" Wednesday is a weekly event, hosted at Breaking the Spine, which encourages fellow bloggers to spotlight upcoming releases that we're excited about.  This week I'll also be linking to Can't Wait Wednesday, hosted by Tressa.
My selection for this week is Wonder Woman:  Warbringer by Leigh Bardugo.  Wonder Woman is my all-time favorite superhero and has been since I was a little girl watching Lynda Carter play the part on TV and kick ass every week.  Having just finished reading my first Leigh Bardugo book, Six of Crows, and falling madly in love with it, I truly can't wait to see what she does with Wonder Woman. I think it's going to be absolutely brilliant!
WONDER WOMAN: WARBRINGER by Leigh Bardugo
Publication Date:  August 29, 2017
From Amazon: The highly anticipated, entirely new coming-of-age story for the world's greatest super hero: WONDER WOMAN by the # 1 New York Times bestselling author LEIGH BARDUGO.
She will become one of the world's greatest heroes: WONDER WOMAN. But first she is Diana, Princess of the Amazons. And her fight is just beginning. . . .
Diana longs to prove herself to her legendary warrior sisters. But when the opportunity finally comes, she throws away her chance at glory and breaks Amazon law—risking exile—to save a mere mortal. Even worse, Alia Keralis is no ordinary girl and with this single brave act, Diana may have doomed the world.
Alia just wanted to escape her overprotective brother with a semester at sea. She doesn't know she is being hunted. When a bomb detonates aboard her ship, Alia is rescued by a mysterious girl of extraordinary strength and forced to confront a horrible truth: Alia is a Warbringer—a direct descendant of the infamous Helen of Troy, fated to bring about an age of bloodshed and misery.
Together, Diana and Alia will face an army of enemies—mortal and divine—determined to either destroy or possess the Warbringer. If they have any hope of saving both their worlds, they will have to stand side by side against the tide of war.

ADVANCE PRAISE FOR WONDER WOMAN:  WARBRINGER
"Warbringer is straight-up dazzling, every sentence waking up your senses with a 'Yeah, that's right, this is BRAND-NEW, SUCKAS!' punch." —LIBBA BRAY, New York Times bestselling author of The Diviners
"Will absolutely satisfy pre-existing fans of Wonder Woman, but it also readily stands alone for non-superhero fans." —Kirkus Reviews, STARRED REVIEW
"Wonder Woman is the epitome of a kick-butt heroine, and Bardugo does her justice with aplomb." —The Bulletin

"Bardugo breathes zippy new life into the story with a twisty plot, whip-smart characters, and her trademark masterful writing." —Booklist
* * * * *
I'd love to hear what upcoming book releases you're waiting on this Wednesday? Leave me your link in the comments below and I'll stop by and check out your WoW selection for this week. 🙂
http://thebookishlibra.com/wp-content/uploads/2017/06/wonderwoman.jpg
1074
720
Suzanne
http://thebookishlibra.com/wp-content/uploads/2016/07/bookish-libra-logo-2-1.png
Suzanne
2017-06-28 05:46:48
2017-06-28 06:01:25
Waiting On / Can't Wait Wednesday - Spotlight on Wonder Woman: Warbringer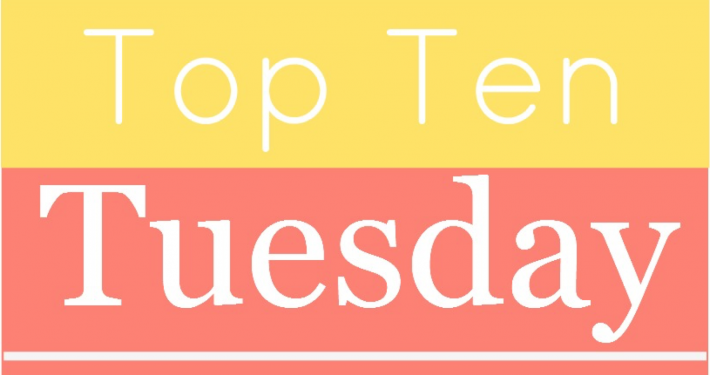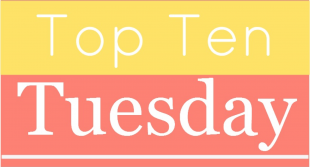 Top Ten Tuesday is a fun weekly meme hosted by The Broke and the Bookish. This week's topic is Top Ten Reads for the first half of 2017.  I had originally planned to do only 2017 releases but didn't really have enough favorites to make a top ten list.  Instead, I've chosen to just go with my favorite reads, regardless of when they were released so there's a mix of 2017, 2016, and even at least one 2015 book that I read and loved this year.
My Top 10 Favorite Reads for the First Half of 2017
1. THE HATE U GIVE by Angie Thomas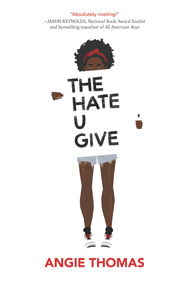 Why I Loved It:  I tend to measure how good a book is by how many emotions it makes me feel while I'm reading and The Hate U Give is off the charts in that respect.  It made me sad and brought me to tears several times, it made me frustrated and angry, and it even managed to make me smile and laugh a few times along the way as well. I also felt the love between Starr and her family, as well as the love that held her community together.  When I say it's a powerful read, that's what I'm talking about.  This book is just so real and honest and raw that you feel EVERYTHING the characters are going through.  (Read My Full Review…)
* * * * *
2. A CONJURING OF LIGHT by Victoria Schwab
Why I Loved It:  I just finished this book over the weekend and haven't even begun writing my review, but the fact that I stayed up until 1:00 a.m. Sunday night, even though I had to be up by 6:00 a.m. for work should tell you just how much I adored this book.  Everything about this series is amazing — the elaborate world building, the intricate system of magic, and my favorite part  – the complex relationship between the characters and the final book gave me exactly the ending I was looking for.  Schwab really outdid herself with this finale. (Review still to be written…)
* * * * *
3.  SAINTS AND MISFITS by S.K. Ali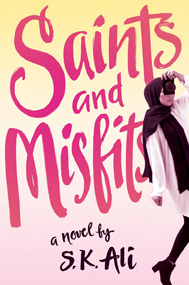 Why I Loved It:  S.K. Ali's debut novel Saints and Misfits is a beautifully written coming of age book about family, friendship, love, religious faith, and so much more. It's also a book that focuses on the importance of not judging people, of not making assumptions about people you don't even know based on how they look or how they're dressed, or maybe even how religious or not religious they may seem.  Saints and Misfits tackles all of these important themes and allows us to explore them through the eyes of a hijabi teen, Janna Yusuf, as she navigates her way through life in her high school, at home, and in her Muslim community.  I adored so many of the characters in this book, but main character Janna was definitely my favorite.  I adored everything about her.  She's super smart, hilarious, a little bit snarky, and just an all-around likeable character, probably one of the most likeable characters I've read so far this year.  As if all of that wasn't cool enough, Janna is also a Flannery O'Connor loving book nerd! If I had gone to school with Janna, I totally would have wanted to be friends with her.  I also found her voice to be authentic and I loved seeing the events of the story unfold from her perspective.  Her journey to find herself and to ultimately decide what kind of person she wants to be is such a compelling one and it just made this book one I couldn't put down once I started reading. (Read My Full Review…)
* * * * *
4. SIX OF CROWS by Leigh Bardugo

Why I Loved It: What I loved most about Six of Crows are the characters.  Leigh Bardugo has crafted some of the most fascinating and unique characters I've come across in YA fantasy.  I always enjoy stories that feature an anti-hero and with Kaz and his "Crows," we have 6 anti-heroes! I love anti-heroes because they're always such complex characters and these characters are no different. What each of the Crows have in common is that they have no family and they've each had to do some pretty awful things in the name of survival, including resorting to thievery and murder.  Through flashbacks that give us backstory on each of the characters, however, Bardugo manages to make this gang of thugs so sympathetic that you can't help but fall in love with them.. (Read My Full Review…)
* * * * *
5. THE UPSIDE OF UNREQUITED by Becky Albertalli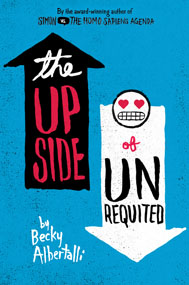 Why I Loved It: Another book where the characters just captured my heart.  Becky Albertalli really has a gift for making adorable and relatable characters and Molly Peskin-Suso is no exception. I really loved Molly. In addition to being smart and funny, Molly also has anxiety issues and I found the inner monologue running through her head to be so relatable throughout the book.  I just loved the way Albertalli wrote Molly's voice and could empathize with all of Molly's insecurities.  If you've ever experienced anxiety or felt the fear of rejection, it's easy to understand where Molly is coming from and why she's so hesitant to put herself out there.  I also loved that even though Molly is somewhat overweight, she still has a great sense of style and a healthy self image. She isn't trying to starve herself to make herself more appealing to anyone.  Molly is who she is and makes no apologies for it.  When a boy at a party tells her she's "gorgeous for a big girl," Molly's very candid response is "F*** you." I mean, seriously, how can you not love this girl?  (Read My Full Review…)
* * * * *
6. SWIMMING LESSONS by Claire Fuller
Why I Loved It:  Swimming Lessons was a powerful and unique read for me.  There's a huge mystery that runs through the story with respect to Ingrid: 'Is she really dead or could she possibly be alive and off living a secret life unbeknownst to her husband and children?' Instead of being this huge dramatic event, however, it's written in such a subtle and elegant style that it wasn't this huge melodramatic event, more just the quiet reveal of a troubled family.  I also liked one of the book's central themes – that we all bring our own meaning to the books we read.  And in keeping with that theme, Swimming Lessons leaves the reader to interpret what really happened to Ingrid.  (Read My Full Review…)
* * * * *
7. THE INEXPLICABLE LOGIC OF MY LIFE by Benjamin Alire Saenz
Why I Loved It: Another book that I've just finished and haven't completed the review for.  I fell in love with this book because of its strong focus on family relationships and especially on the idea that being a family doesn't necessarily have anything to do with being related by blood.   Main character Sal has been raised all his life by his incredible adoptive dad – the kind of loving and supporting dad that every kid wants, that all of Sal's friends wish they had.  When Sal suddenly starts to have issues with anger and starts getting into fights at school, he starts to question who he is.  Where is this violence coming from?  Is he somehow more like his biological father who he has never even met than he is like the wonderful, gentle, nonviolent man who has raised him all his life?  The nature vs. nurture debate has always interested me, so I found Sal's journey very compelling.  (Review still to be written…)
* * * * *
8. THE FEMALE OF THE SPECIES by Mindy McGinnis
Why I Loved It: The main reason why I loved this book is  its fascinating main character, Alex Craft.  Alex has always had a dark side. She can feel the violence bubbling beneath the surface, just waiting to be unleashed.  For most of her life, she has been able to keep this dark side under control.  However, when her older sister Anna is sexually assaulted and murdered and the murderer goes free, the beast within Alex awakens and she takes matters into her own hands to get justice for her sister.  Alex gets away with her crime but feels like she could easily do the same thing again if she encounters another predator so she doesn't really trust herself to be around other people.  Because of this, she doesn't really make any friends at school and is mainly known by her classmates as "the girl with the dead sister." That is, until she unexpectedly becomes friends with Jack and Peekay, her first real friendships, and it suddenly becomes a lot harder to hide her true dark nature.  I loved the complexity of Alex's character.  On the one hand, she's a straight A student in line to be valedictorian of her class and she also volunteers at the local animal shelter and is super gentle with all of the animals that she cares for.  On the other hand, she's a stone cold vigilante who will go after anyone she views as a predator.  (Read My Full Review…)
* * * * *
9. UNDER ROSE-TAINTED SKIES by Louise Gornall
Why I Loved It: This is another book where a wonderfully drawn main character makes this a standout for me.  I really adored Norah.  She's smart and funny, incredibly resourceful when it comes to coping with her illness, and she's also much braver than she gives herself credit for being.  I found Norah so likeable that I immediately wanted to know more about her condition since agoraphobia is something that I know next to nothing about.  Being in Norah's head as she struggles through each day made the story especially powerful and gave me a much clearer picture of the illness and how truly crippling it can be.  Norah's frustration is palpable throughout, especially the fact that she is very much aware that most of her fears were irrational, but still can't stop their paralyzing effects.  By allowing us access to Norah's thoughts, Gornall paints an authentic and vivid portrait of agoraphobia and allows us to see beneath the surface of what is often considered an "invisible" illness.. (Read My Full Review…)
* * * * *
10. STALKING JACK THE RIPPER by Kerri Maniscalco
Why I Loved It:  Two words…Audrey Rose.  Maniscalco does a wonderful job of fleshing out her main character, Audrey Rose Wadsworth and making her seem so realistic.  She's fiercely independent, headstrong, and sassy as all get out, which makes her such a fun character to follow.  Even with the overriding creepy serial killer plot, Audrey Rose still managed to make me chuckle quite a few times throughout the novel.   You just never know what she is going to say at any given moment, but you can pretty much guarantee that it will be completely inappropriate based on society's expectations.  Speaking of society's expectations, Audrey Rose truly doesn't give a flip about those and instead is way ahead of her time and wants to pursue a career in forensic medicine.   When the novel opens, she is, much to her father's chagrin, working as an apprentice to her Uncle, who is an expert in the field. I kept thinking to myself "She's like a Victorian Era Maura Isles" (from the popular series Rizzoli and Isles).  (Read My Review…)
* * * * *
Question: What have been your favorite reads so far this year?
http://thebookishlibra.com/wp-content/uploads/2016/08/toptentuesday.png
864
1600
Suzanne
http://thebookishlibra.com/wp-content/uploads/2016/07/bookish-libra-logo-2-1.png
Suzanne
2017-06-27 06:12:08
2017-06-27 06:12:08
My Top Ten Favorite Reads for the First Half of 2017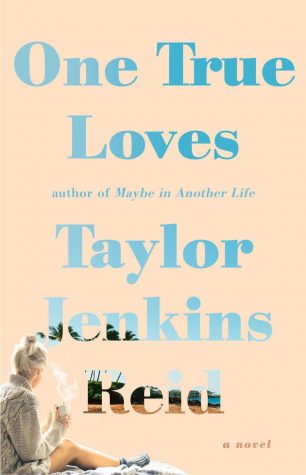 One True Loves

by Taylor Jenkins Reid


Published by
Washington Square Press on June 7th 2016
Genres:
Contemporary Fiction, Chick Lit
Pages:
327
Source:
Library
Buy on Amazon
Goodreads
Goodreads Synopsis:  From the author of Maybe in Another Life—named a People Magazine pick and a "Best Book of the Summer" by Glamour and USA Today—comes a breathtaking new love story about a woman unexpectedly forced to choose between the husband she has long thought dead and the fiancé who has finally brought her back to life.
In her twenties, Emma Blair marries her high school sweetheart, Jesse. They build a life for themselves, far away from the expectations of their parents and the people of their hometown in Massachusetts. They travel the world together, living life to the fullest and seizing every opportunity for adventure.
On their first wedding anniversary, Jesse is on a helicopter over the Pacific when it goes missing. Just like that, Jesse is gone forever.
Emma quits her job and moves home in an effort to put her life back together. Years later, now in her thirties, Emma runs into an old friend, Sam, and finds herself falling in love again. When Emma and Sam get engaged, it feels like Emma's second chance at happiness.
That is, until Jesse is found. He's alive, and he's been trying all these years to come home to her. With a husband and a fiancé, Emma has to now figure out who she is and what she wants, while trying to protect the ones she loves.
Who is her one true love? What does it mean to love truly?
Emma knows she has to listen to her heart. She's just not sure what it's saying.
MY REVIEW
A book with a love triangle I actually enjoyed?  As much as I usually rage against them, I totally did not see that one coming, but in One True Loves the main character Emma finds herself at the center of what I'd consider to be a pretty realistic love triangle.  When her husband and high school sweetheart, Jesse, is lost at sea in a helicopter crash, Emma is devastated.  His body is never found and after months and months of hoping he'll return to her, Emma finally decides that she needs to face the fact that he's gone and move on with her life.  She moves back home and starts working in her parents' bookstore and runs into one of her good friends from high school, Sam.  Sam was in love with Emma in high school, and even after all these years, he still feels the same way so he asks her out.  They take things very slowly, because Sam really wants to make sure Emma has finished grieving for Jesse before they move forward as a couple.  Emma does fall in love with Sam and, over the next couple of years, starts to build a life with him.  They're in the midst of planning their wedding when Emma gets an unexpected phone call – it turns out Jesse is still alive and is on his way home to her.
The rest of the novel follows Emma as she tries to figure out what to do.  Does she break Sam's heart and go back to Jesse, who she always said was the love of her life?  Or does she break Jesse's heart and tell him that she has moved on without him? 
LIKES
It's truly an impossible situation to be in and what I enjoyed most about the book was how well Taylor Jenkins Reid captures all of the conflicting emotions that not only Emma is feeling, but also those of both Jesse and Sam.  Both men know how difficult this is for Emma, yet both of them are also completely devoted her to and want a future with her.  Sam even goes so far as to remove himself from the equation for a while to give Emma the space she needs to really think through what she wants.  If she's going to choose Sam, Sam wants it to be because she truly chooses him, not because she would feel too guilty to dump him and go back to her husband.
I also liked the way Reid structures the novel.  We start out in the present with Emma getting the phone call letting her know Jesse is still alive, but then we go back in time to when they were all in high school and watch Sam and Emma meet and become good friends, and we also watch Emma and Jesse meet and fall in love.  As we work our way back toward the present and see each of these relationships develop over time, it becomes all the more gut wrenching to think about having to choose between these two men because they're both so great and because both relationships are such healthy ones for Emma and she's truly happy and deeply in love with each of them.
DISLIKES
The only thing I didn't care for in One True Loves was that I thought the ending wrapped up a bit too quickly.  It was like once Emma made her choices, we hit fast forward and zoomed to the ending.  I was still happy with the ending; I just would have liked a little more.
FINAL THOUGHTS
Even with my issue about the ending feeling rushed, I still thought this was a wonderful read.  Being a married woman myself, I found it very easy to put myself in Emma's shoes and wonder how I would handle being put in the same situation that she found herself in.  That allowed me to get so absorbed in the story that I devoured the book in a day.  That said, I'd highly recommend One True Loves as a great vacation or beach read.  It's an engaging read that you won't want to put down until you find out who Emma chooses.
RATING:  4 STARS

About Taylor Jenkins Reid

TAYLOR JENKINS REID lives in Los Angeles and is the acclaimed author of One True Loves, Maybe in Another Life, After I Do, and Forever, Interrupted. Her most recent novel, The Seven Husbands of Evelyn Hugo, comes out June 13th. Her novels have been named best books of summer by People, Cosmopolitan, Glamour, InStyle, PopSugar, BuzzFeed, Goodreads, and others.
In addition to her novels, Taylor's essays have appeared in places such as the Los Angeles Times, The Huffington Post, and Money Magazine.
Website | Twitter | Facebook | Goodreads | Amazon | Instagram
http://thebookishlibra.com/wp-content/uploads/2017/06/one-true-loves-big.jpg
1500
966
Suzanne
http://thebookishlibra.com/wp-content/uploads/2016/07/bookish-libra-logo-2-1.png
Suzanne
2017-06-26 06:19:30
2017-06-26 06:19:30
Book Review: One True Loves by Taylor Jenkins Reid